Plum crisp with ginger and basil
Ingredients
1" piece of ginger
2 plums grated
8 plums chopped
2 handfuls of basil
1/2 cup flour
1/2 cup oats
1/2 cup brown sugar
1 tsp. freshly grated nutmeg
1 stick of cold butter
Whipped cream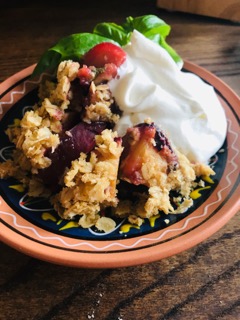 ---
Directions
Grate 1" ginger and two plums in marinating bowl.
Roughly chop 8 plums and tear two handfuls of basil.
Sprinkle with flour and mix with ginger mixture in bowl.
In a separate bowl, mix together half a cup each of flour, oats and brown sugar with freshly grated nutmeg (about a teaspoon).
Cut in a stick of cold butter.
Sprinkle over plums.
Bake at 350 for one hour or until browned and bubbly.
Serve with freshly whipped cream.
Related Products
Tajine
Sartan
No items found
Platters
No items found
Olla
No items found
mortar
No items found
Grater Plates
Grater Bowls
Garlic Keeper
No items found
Cruet
cooker with lid
No items found
Cazuela