Chicken Pesto Bruschetta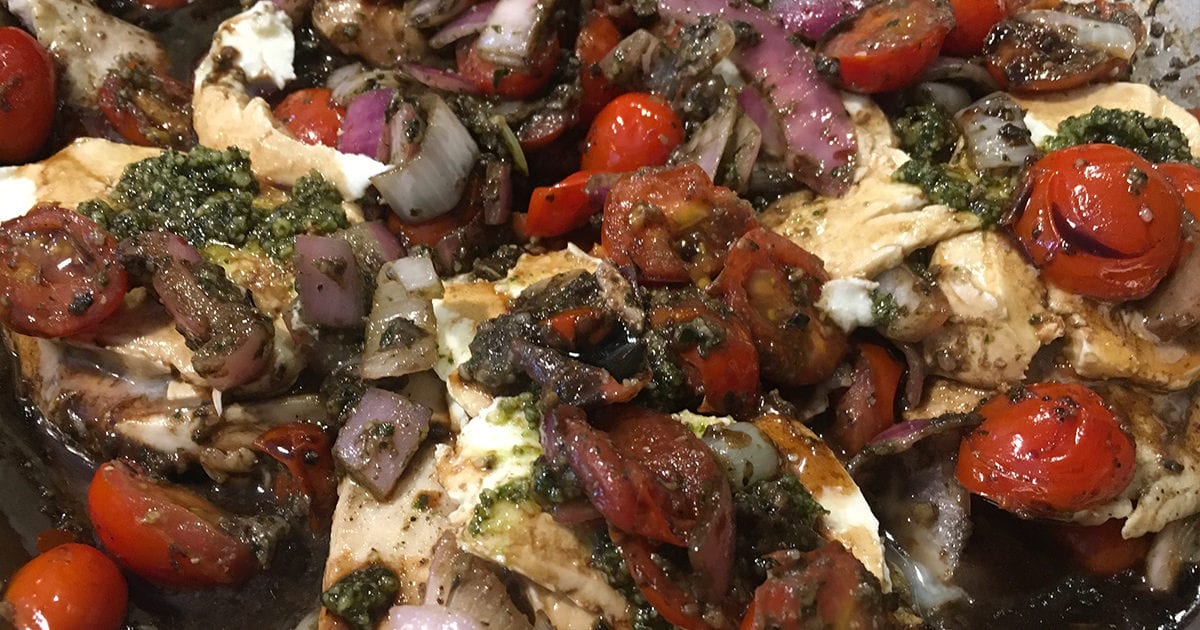 4 Chicken breasts 
4 Slicesfresh mozzarella 
2T Olive oil 
1T Salt Fresh 
ground black pepper, to taste
Basil Pesto
2c Basil leaves 
1c Pine nuts 
1/2c Freshly grated parmesan cheese 
2 Cloves of garlic 
1/3c Olive oil
Tomato Bruschetta
10 oz Cherry tomatoes, halved or quartered 
2-3 Cloves of garlic, minced 
1/4t Pepper 
1/4t Salt 
2T Olive oil 
1T White balsamic vinegar 
1T Lemon juice 
4 leaves Fresh basil, cut into thin strips
Heat oven 400°. Place ingredients for pesto into food processor, pulse until combined and desired consistency. Set pesto aside.
In a small bowl toss together ingredients for tomato bruschetta. Set aside and let flavors meld.
Pat chicken dry and rub with olive oil and sprinkle with salt and pepper. Bake chicken about 30 -40 minutes. When chicken is almost done, place a slice of mozzarella on each breast. Top the mozzarella with a scoop of pesto and a scoop of bruschetta. Serve immediately.
---
Recipe Cards
Click thumbnails to view and download a full size image.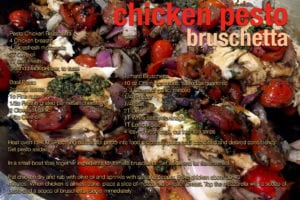 ---